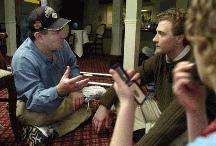 News-Times photos/Chris Ware
Joe Fremont, director and producer of "Through Different Eyes," talks with actor Joseph Schommer from New York City prior to shooting a scene at Bernard's Inn in Ridgefield.
There's a movie maker on the scene in Ridgefield, setting up shots and shooting footage at Bernard's, the Community Center and the Keeler Tavern.
His name is Joe Fremont and he's shooting the low budget, independent film, "Through Different Eyes."
"It's a coming of age film about a group of divergent characters from completely different backgrounds and ethnicities," Fremont said of the movie he both wrote, films, produces and directs. "They're on life's path. They know themselves. And they're about to find out how wrong they are."
Shot in part on the campus of an Ivy League New England college (which by agreement must go unnamed), "Through Different Eyes" is a college movie that treats the experience with "sensitivity and respect for the drama that these kids go through."
Joe Fremont sets up a camera prior to shooting a scene for his movie.
No "Animal House," Fremont's film is a realistic look at six young men and women as they come to terms with who they are in relation to the society in which they live.
At 47, Fremont shows a working knowledge of the intensity with which youths, just out of high school and dealing with college, feel life's experiences. He also brings a background of working on other independent films with him to this project.
"I've been involved in film most of my life whether it was working as a boom operator or working on sets in some other capacity," Fremont said.
He is joined in the project by his wife, Mary Ann Wong, an award-winning floral designer who is the film's production designer, wardrobe designer, make-up artist and set dresser.
Unlike other production companies that locate a set and then rework it to fit the cinematic image the directors have in mind, Fremont and Wong work in what they refer to as "organic filmmaking," working with a site exactly as it is.
"Ridgefield is so beautiful. You don't want to change it in any way," Wong said.
"You have to work on trust," Fremont added. "Trust the material, let it do what it does. Trust the ability of your actors to carry the story and trust the location, don't break it down and change it."
Fremont said he could not have made this film 10 years ago, in part because of the technology that has developed over those years.
Shooting with a Panasonic DVX100, digital camcorder, he is able to produce a high quality, finished product in the same frame structure as movies shot on film with much more expensive equipment.
"The TV series 'K Street' was shot with a DVX100," Fremont noted. "It ran on Showtime about the time when Howard Dean was leading the Democratic charge."
Fremont has also drawn high quality talent for the six main characters of his film. Casting calls brought responses from Julliard and New York Academy of Arts graduates, giving him a rich pool to draw from.
Actor Roger Wu, who plays Asian student Raymond Chan, recently appeared in a "Law & Order" program on NBC. Actress Carolina Hoyos, who plays Hispanic student Mireia Cepeda, is frequently featured on television's "MTV Hits" show. Hoyos now lives in Los Angeles and commutes for her scenes in Fremont's film.
Having such a close, hands-on treatment of "Through Different Eyes" gives Fremont the ability to fully control the artistic outcome of the film: one of the pluses in creating an independent film.
"I taught photography at an early age," Fremont noted, "so being director of photography came naturally."
Where most small budget films have a start-and-stop momentum in shooting, "Through Different Eyes" has the benefit of having some small investors who make a consistent production schedule possible.
While maintaining the artistic integrity of the movie is paramount for Fremont, he does think about the possibility of attracting larger investors once the digital product is "in the can."
"Billy Bob Thorton's 'Sling Blade' comes to mind," Fremont said. "That was shot in black and white, low budget, to show what Thorton could do. Once that phase was completed, he got major backers and was able to shoot the story in color."
Even if big backers don't show up, "Through Different Eyes" could ultimately be shown in its digital format at film festivals like the Tribeca or Sundance, Fremont noted. Then the film would be up for showings in small movie houses across the country.
With 35 percent of the film shot, Fremont sees himself editing by spring. There is still much shooting to be accomplished, with Ridgefield residents supplying the parts of extras in some of the larger crowd scenes.
A hope is that First Selectman Rudy Marconi may even try his hand in a small part as a college dean.